July 20th, 2022 — Bandsintown and Forj continue to heat up the summer! With new artists as well as NFTs in the music space, our 'Big Break' collaboration has brought new eyes, ears and fans! This month's performance on July 27th at 6pm PST/9pm EDT features none other than Alix Page!
The virtual laminate and the artist who created it in collaboration with Alix Page will be revealed soon! It was done in collaboration with Natalie Minguez, one of Alix Page's ongoing collaborators for all things design. The NFT is an adaptation of Alix Page's debut EP Old News, released earlier this year.
It will be minted on Polygon and distributed to attendees by Forj via a wallet created for them using just their email!
You can view the FREE live stream and also get a free, bespoke Alix Page NFT to commemorate the show here: http://bnds.in/alixpage.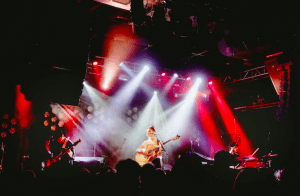 Rising SoCal artist, Alix Page, may seem indistinguishable from your best friend — She has a severe love for skorts, has been dubbed "a pleasure to have in class" on more than one occasion, and still revels in the feeling of seeing someone's bedroom for the first time. Upon closure examination you'll find yourself enthralled by Alix's inner world, rooted with talents beyond her years.
She has supported artists such as Gracie Abrams Global Tour, Maize, Waxahatchee, Ricky Montgomery, and more. Page released her debut EP Old News in January; self written and produced by Half•Alives Brett Kramer. Alix has gained an influx of praise from key titles including Fader, People Magazine, CLASH, NME, Coup De Main, DORK, Line Of Best Fit, Audiotree, and more!
Follow Alix Page
Website — alixpage.com/
Instagram — instagram.com/alixxpage/
Twitter — twitter.com/alixxpage?lang=en
TikTok — tiktok.com/@alixrage
Facebook — facebook.com/alixpagemusic
Spotify — open.spotify.com/artist/7hp6PmppZj6iiolLVT4iEZ?si=jzfRHWwKQY66wcoRjKd0DA&nd=1
Apple Music — music.apple.com/us/artist/alix-page/1498941774