In April, Bandsintown and Forj continued to amplify new artists as well as NFTs in the music space with the latest 'Big Break' performance.
Indie rock duo Boyish were the latest addition to the series with several more set to be announced in the coming months.
Fans were treated to a FREE live stream and also received a free, bespoke Boyish NFT to commemorate the show.
The virtual laminate, minted on Polygon and distributed to attendees by Bondly via a wallet created for them using just their email, was created by visual artist Izzy Goldberger.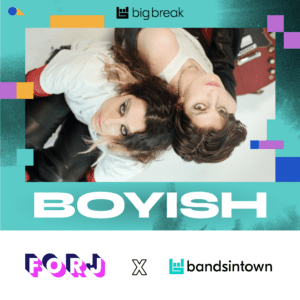 Izzy created the design by teaming up with the band who were able to connect with fans who attend the livestream and claim their free NFT through Bandsintown For Artists, the free direct-to-fan communications and marketing platform used by 560,000 artists worldwide.
Boyish was formed by India Shore and Claire Altendahl in 2016 after the duo met at the Berklee College of Music. They released their most recent EP "We're all gonna die, but here's my contribution" in May 2021.
The project has been streamed over two million times and received praise from publications like Nylon, NPR, Ones To Watch, Them., The GLAAD Wrap, and Lyrical Lemonade.
They were also a recipient of the LGBTQ+ Emerging Artist Award presented by the Music Forward Foundation and were the first band to join the Bandsintown Big Break Class of 2021. Boyish closed out 2021 by playing a myriad of shows, opening for artists like Spill Tab, Ella Jane, and Gully Boys across the country. Boyish have released two singles from their upcoming album.
Their EP, "My Friend Mica", is set for release in May of 2022. Both singles "Smithereens" and "Congratulations: have received placements on Spotify editorial playlists like New Music Friday, Lorem, and All New Indie, and received features in Billboard, Paper, Office Magazine, Alt-Press, and Under The Radar. Boyish are now gearing up to open for Remo Drive on a 17-date tour run.